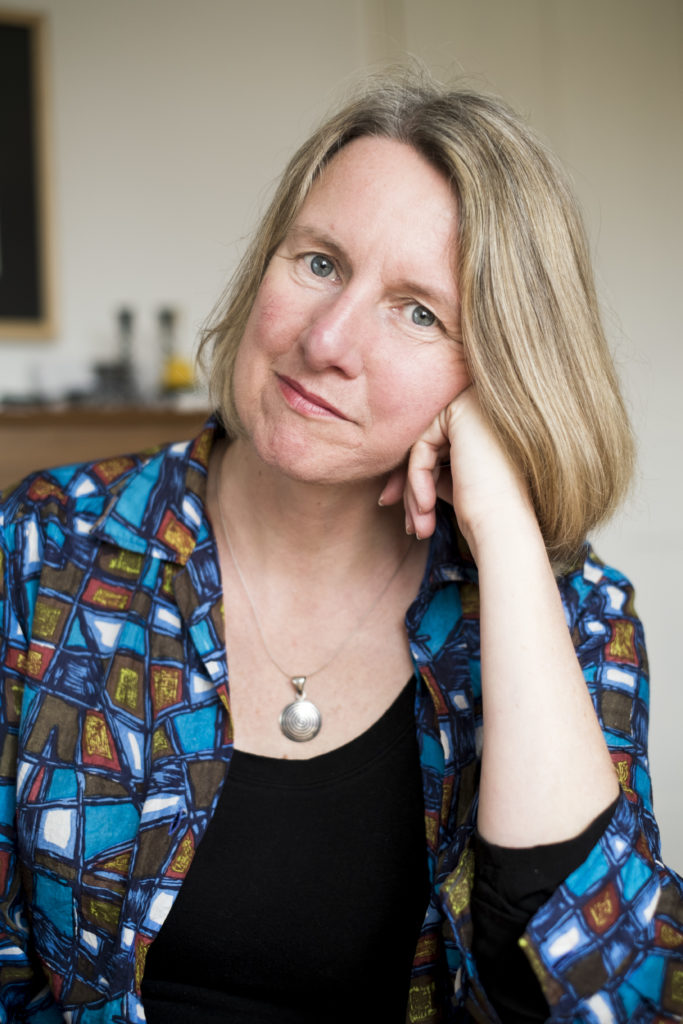 Photo credit: Sean Malyon
Short Bio
---
Alyson Hallett is a prize-winning poet and writer who lives in Somerset. Her publications include sole-authored and co-authored books of poetry, collections of short stories as well as drama, an audio diary and an essay commissioned for BBC radio. She frequently collaborates with sculptors, dancers, glass makers, visual artists, musicians, and has received Arts Council funding for her poetry and public art project, The Migration Habits of Stones. Alyson is a Hawthornden Fellow, visiting lecturer at the University of the West of England and Falmouth University's M.A. in Authorial Illustration and offers mentoring through the Poetry Society. She has held many prestigious residencies including being the U.K.'s first poet in residence in a university geography department supported by a Leverhulme Award, poet in residence in Charles Causley's house and also at the Small School in Hartland. She has an ongoing schedule of national and international poetry readings and loves to walk, play piano and swim in the sea.
I LOVE her – she's fantastic, as fresh as anything, the voice just jumps straight out at you. And the poems make me laugh too.

Jackie Kay, on the pamphlet Toots
Long Bio
---
After leaving, Alyson worked for the Richmond Fellowship in Glasgow as deputy project manager and took a diploma in group work at the Garnethill Centre. It was during this time that she attended a creative writing workshop in Pollokshields Library run by the poet Janet Paisley. They gave readings in pubs in the city and printed booklets of their work and in this way Alyson discovered how to bring what she had always loved, poetry, more fully into her life. She applied to do an M.A. in Creative Writing at Bath Spa University and, after being accepted, returned to England and went on to graduate with a Distinction.
What felt like a succession of small miracles came into Alyson's life after this. As well as an ongoing job as a cleaner, she worked for the Poetry Can reading poems on buses; read poetry in old people's homes; ran writing workshops in libraries, community centres, psychiatric units. In 2003, she became Visiting Writer at the University of the West of England, working with students and staff, writing poetry on windows in the library, planting words in flowers with the gardeners. In Bristol, she collaborated with visual artists, photographers, dancers to create installations, artist's books and performances. Participating in a Goat Island summer school enabled Alyson to develop ways of thinking and working that were (and are) vital to her creative practice and community.
In 2001, Alyson met the sculptor and letter carver Alec Peever. He commissioned her to write a poem that he then carved into Milsom Street pavement in Bath. They have gone on to enjoy a collaborative relationship spanning nearly two decades, primarily through Alyson's international poetry as public art project, The Migration Habits of Stones. Alyson has received Arts Council Awards for this work, enabling her to undertake research into how stones move, from erratics to ballast to pebbles that people pick up and take home.
So far, Alyson has journeyed around the world with five migrating stones. Each one is sited in a different country and has a line of a poem carved into it by Alec. The line says: and stones moved silently across the world. The project is chiefly concerned with honouring the natural world and our relationship to it. Alyson was delighted to be in residence at the Trinity Laban Dance Centre with the third migrating stone, where she created an installation of migrating stones with international students. She was commissioned by Radio 4 to create an audio-diary on Migrating Stones for the Nature series and has been invited to present her work at the Bellarmine Forum, Los Angeles; the Geological Society, London and she was a keynote speaker at artdotearth's In Other Tongues symposium in Dartington. Stone Talks is a book that looks at the origins of her work with stones.
Alyson's first book of sole-authored poems, The Stone Library, was published by Peterloo Poets, and the second, Suddenly Everything, by Poetry Salzburg. Her latest pamphlet of poems, Toots, published by Mariscat Press, was shortlisted for the Michael Marks and Callum MacDonald Memorial Awards and was chosen by Jackie Kay as a summer read in The Observer. She has won first prize in the Scintilla Long Poem competition and has given poetry readings across the UK as well as in Mexico, the USA and Crete. Alyson has also published short stories, The Heart's Elliptical Orbit; an afternoon play, Dear Gerald, for BBC Radio 4 and an essay, Chalk for BBC Radio 3. Co-authored books include LZRD, poems from the Lizard Peninsula with Penelope Shuttle; walking limping stumbling falling with walking artist Phil Smith, and Six Days in Iceland with physical geographer Professor Chris Caseldine. Alyson co-edited an anthology of poems, Project Boast, with Rachel Bentham, and was a co-editor on Borderlands, a book of poems and images by refugees and asylum seekers.
Alyson has held many prestigious residencies. She was writer in residence for South West Arts during the year of the Artist. She then went on to be writer in residence for the Small School in Hartland before becoming the country's first poet in residence in a geography department with Exeter University on the Falmouth campus, funded by a Leverhulme Trust award. She wrote poems on windows, installed poetry in the library, participated in lectures and a field trip to Iceland and enjoyed a collaboration with sculptor David Paton who carved her words into boulders that were then installed on the university campus.
Alyson was the second Charles Causley poet in residence, and the first to live in his house on Ridgegrove Hill which resulted in the pamphlet, On Ridgegrove Hill. She has also been in residence with the Endelienta Trust, the Caravanserai Project, and Potentino Castle in Italy. The latter led to a publication of prose and poetry, The Golden Bowl, and a commission to write a song cycle with the composer Mark Springer. This was premiered in the castle in the summer of 2019 with Charlotte Horton as artistic director and Danielle Segen as soprano.
Alyson has a practice-based PhD in poetry with research into Geographical Intimacy. This is available as a book with the same title. For the past eight years she has worked part time for the Royal Literary Fund as a Fellow at Exeter and Plymouth Universities; an Advisory Fellow and a Reading Round Lector. She has taught poetry at the Arvon Foundation with James Harpur and offers one to one surgeries through the Poetry Society. Alyson has interviewed Sharon Olds (published in NAWE magazine) and Penelope Shuttle (published in Raceme) and written about Charles Causley for The Dark Horse.
Alyson has grown oak trees from acorns since she was in her twenties. When they're big enough, her uncle Bryan plants them out on a piece of land on the Somerset Levels that he bought for the benefit of insects and birds, animals and trees. She loves to walk, dance, play the piano and swim, visit art exhibitions, watch films, see contemporary dance and hear live music. Alyson has an ongoing interest in embodied writing that she explores with the NY dancer Deborah Black. She enjoys a lively schedule of poetry readings in the UK and abroad and is currently working on a third sole-authored collection of poems and a booklet about starlings.
Her freshness of vision and freedom of spirit are in the great Romantic tradition, yet she has shaped her own unique sensibility and crafted enduring verse from her questing soul, perceptive eye, and wonderful ear for music.

James Harpur on Suddenly Everything